The research of Dui Clinique first started in 1990, first with herbs, then herbs with electricity. The concept was completed in late 1996. The aim was to find herbs that are effective in treating and removing pigmentation, healing acne, and reducing cuperose, scars and wrinkles. The concept of the Dui machine is to enhance the efficacy of the herbs and it is created according to Arnt-Schultz's law.
Arnt-Schultz's law states that a low electrical stimulation increases psychological activities whilst a strong electrical stimulation inhibits or stops physiological activities. Such low electrical stimulation can:
Increase tissue blood circulation by 500%

Stimulate sodium-potassium balance in the cells

Increase production of ATP by 500%

Increase collagen production by 73%

And Increase transportation of free amino acid by 30-40%.
A period of two years was spent in finding the right kind of current that will enhance the results of the herbs, and in addition, has the dimension of creating facelifts and renewing the connective tissues.
Marketing Trials started in Singapore and Norway in 1997. The concept was further developed to include body treatments afterwards. The key persons involved in the research were Ms Audrey Wong – beautician, body therapist, herbalist and businesswoman, and Mr Nils Christian Mortensen – engineer, philosopher and businessman.
There will be continual research into making better results for skin problems. There has been more treatments written for body treatments like cellulite, broken capillaries, feet massage inspired by feet reflexology and lymphatic drainage for the whole body. Continuous changes are evolved for scar treatment, making the treatment more time efficient.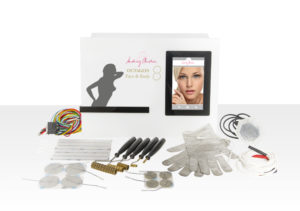 In 2016 we introduced the latest generation of the Dui Clinique machine with newer technology and possibilities within electrotherapy for beauty and the body. This machine is called Octagon 8 in 1. The machine has a complete face treatment concept, from face lifting to skin cleaning, and body therapy from slimming to lymphatic drainage. It includes the versatility of manual and automatic treatments to give therapists even more possibilities.
Today, the Dui Concept is available in Norway, Sweden, Finland and England.There have already been more than 120 machines sold. The company will endeavour to export franchises to more countries in the future.